Aistritheoirí / Fotheidealóirí á Lorg
Is mian le Europus cur le foireann aistritheoirí agus fotheidealóirí an chomhlachta.
Cuirfear fáilte roimh iarratais ar na poist a bheidh lonnaithe in oifig an chomhlachta ar an gCeathrú Rua, Co. na Gaillimhe. Conradh bliana a bheidh i gceist ar dtús ach d'fhéadfaí síneadh a chur leis an tréimhse sin ina dhiaidh sin.
Riachtanach:
Sárscileanna Gaeilge agus Béarla, idir scríofa agus labhartha
Sárscileanna ríomhaireachta
Sárscileanna eagrúcháin, cumarsáide agus in ann oibriú as a stuaim féin
An cumas tascanna a bhainistiú
Scileanna bainistíochta ama
Inmhianaithe:
Céim onóracha i nGaeilge
Taithí aistriúcháin
Taithí phrofléitheoireachta
Taithí ar bhogearraí aistriúcháin
Eolas ar an gCaighdeán Oifigiúil
Séala an Aistritheora
Oiliúint:
Cuirfear oiliúint teanga agus ríomhaireachta ar fáil.
Pá:
Íocfar pá de réir taithí agus cumais.
Próiseas Iarratais:
 Seol litir iarratais mar aon le CV chuig isadora@europus.ie faoin 5pm Dé Máirt an 25 Deireadh Fómhair 2022.
 Déanfar gearrliosta d'iarrthóirí a ghlaofar chun agallaimh agus scrúdú.
Need more information?
Get in touch! Send us an email or give us a call.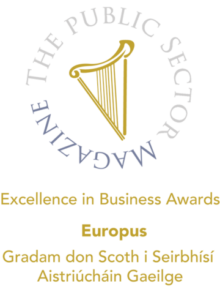 Europus is an award-winning Gaeltacht-based Irish language translation company specialising in the delivery of high-quality, high-level Irish language services to many government departments, local authorities, the European Institutes, national media and educational institutions.
Our office hours are 09.00-05.00 Monday to Friday and a member of staff is always available to liaise with clients and to carry out ad-hoc translations.
+353 91 595492
An Cheathrú Rua, Co. Galway, Ireland, H91 XK3E