Sorry, there are no positions available at this time.
We appreciate your interest in employment opportunities at Europus.
We do not have any positions available at present; however, if you are interested in possible future opportunities, please send your CV to  eolas@europus.ie . We will be in touch if a role becomes available that matches your skills and experiences.
Need more information?
Get in touch! Send us an email or give us a call.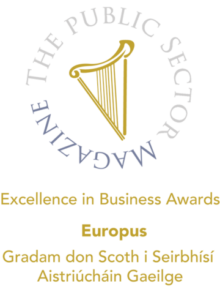 Europus is an award-winning Gaeltacht-based Irish language translation company specialising in the delivery of high-quality, high-level Irish language services to many government departments, local authorities, the European Institutes, national media and educational institutions.
Our office hours are 09.00-05.00 Monday to Friday and a member of staff is always available to liaise with clients and to carry out ad-hoc translations.
+353 91 595492
An Cheathrú Rua, Co. Galway, Ireland, H91 XK3E